Distribution
A Knife amongst the forks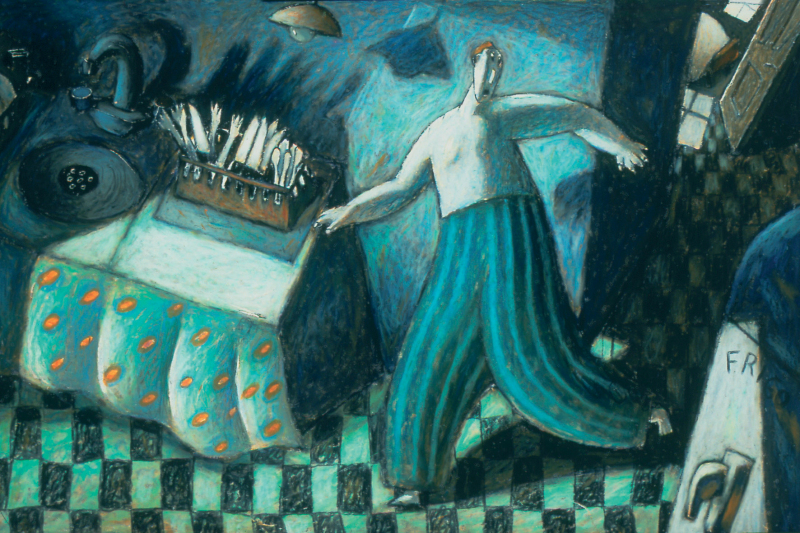 agrandir
What are these two strange things above my nose I'm supposed to see with?

They can't be my eyes. No! They'd never have let me see such a thing.

And yet there's no denying it : I clearly see a knife in the fork compartment. A knife among the forks!
back
Director(s) :
Length :
3 min 30 sec
Category :
short films
Public :
young adults, adults
Scénario :
Graphism :
Jean-Loup Felicioli
Production :

Folimage, avec la participation de Arte France et Canal+.
Distribution
+
In French theaters
Special screenings
International sales
Available version(s) :
French version, French version with English subtitles, International version (music and effects)
Awards / Festivals
+
- Prix du Meilleur Film d'Animation Européen, Castelli Animati, Rome 2000
- Mention Spéciale, Festival Polar dans la ville, Saint Quentin en Yvelines 2002
- Special distinction, 15th World Festival of Animated Films of Zagreb, Croatie 2002
- Prix Hermès, Festival du Court métrage de Fréjus, 2003
Technical information
+
Technicals :
drawings on paper
Genre(s) :
drama
Theme(s) :
love, daily life
French visa number :
100 841
Process :
couleur
Available print(s) :
35mm, Betacam SP, DVD
Image radio (TV, video) :
4/3
HD :
non
Dialogues :
oui
Year of production :
1999
Credits
+
Producer(s) :

Patrick Eveno, Jacques-Rémy Girerd
Animation :
Alain Gagnol
Decors :
Jean-Loup Felicioli, Florence Henrard
Compositing :
Patrick Tallaron, Raphaël Souveton
Music :
Serge Besset
Sound :
Loïc Burkhardt
Editing :
Hervé Guichard
Mixage :
Jean-Claude Millet
Voice(s) :
Bernard Bouillon
Disponible
dans la boutique